CREDITS
Original title: CIAO TESORO
English title: BYE BYE DARLING
Year of production: 2008
Country of production: ITALY
Category: SHORT
Running time: 10' 30" (Note: Here a 1'35" reel of the film)
Genre: GROTESQUE DRAMA-COMEDY
Shooting Format: 35MM, COLOR
Camera: ARRIFLEX 535
Editing software: FINAL CUT PRO
Sound: DOLBY SR
Screening print copy: 35 MM, 1:1,85, COLOR
Screening video copy : DIGITAL BETA E BETA SP (16/9), DVCAM, MiniDV E DVD (4/3 Letterbox)
Others video copies: DVCAM, DVCPRO and MINIDV (4/3 letterbox, PAL)
Original language: ITALIAN
Subtitles languages: ENGLISH, FRENCH, SPANISH, PORTUGUESE
Locations: SPAZIO AURORA (MI), FRIDA CAFE' (MI)
Camera and light service: MY FRIENDS (MI)
Developing, telecine, D.I., audiomix and film print: AUGUSTUS COLOR (RM)
English subtitles: LASER FILM (RM)

PRODUCTION COMPANY, PRESS OFFICE AND WORLD SALES:

Amedeo Procopio via Tracia 1 20148 Milano Italy TEL. +39 02 48713874
MOB. +39 340 7981461 URL http://www.cinelife.it/pagina4.php?l=I EMAIL info@cinelife.it

Cast ANDREA TIBALDI (protagonist)
MARINA REMI (brunette woman)
ELISABETTA FERRARI (blonde woman)
GERARDO MAFFEI (second man)

With the extraordinary participation of the dancer GAIA SCUDERI

Director AMEDEO PROCOPIO
Cinematographer ALESSANDRO ZONIN (A.I.C.)
Sound GIANFRANCO TRALONGO
Story and Screenplay AMEDEO PROCOPIO
Art Directors MIMMA CONTI, FEDERICO MASSA
Costume Designer NADIA GOZZINI
Executive Producer AMEDEO PROCOPIO
Soundtrack "Carillentovecchiostile" and "Marchveloce" of GREG GARAFFA
"Pianeti lontani" of GANJAMAMA
"Entities" of STEVE JOLIFFEE
"El gamal wel gammal" of HOSSAM RAMZY
"Tabla solo" of OSVALDO BRANDAN
"Nehawend dance" of NAITI ABDESSLAM and JAMAL OUASSINI
Editing GABRIELE ALFIERI, AMEDEO PROCOPIO, DUCCIO SERVI, MATTEO VESCOVI

BRIEF PRESENTATION
This short-film is a witty drama-comedy that is focused on love. All characters (two men and two women) are victims of love, but each of them feels love in a different way. The film is a half-serious analysis of love through a non-consequential succession of ironic and paradoxical events. But every event is connected with each other by a hidden plot that will be revealed only in the end.
SYNOPSIS
A nightclub with mysterious logos... a belly dancer playing with some golden veils... two acrobatic barmen...: a man, who looks very nervous, makes a proposal to a woman who's watching the show with a girlfriend: she will go to bed with him in an hour...
The unusual adventure, described through the protagonist's memories, will end up in unexpected way.
DIRECTOR STATEMENT
"Love is an obscure and imponderable sensation, by virtue of that even the most foolish actions seem to us reasonable…That is the reason why I wanted to play with love by writing a story that ranges over various genres, from thriller, to drama film to grotesque comedy" (A. PROCOPIO).
FESTIVALS

MAIN FESTIVALS: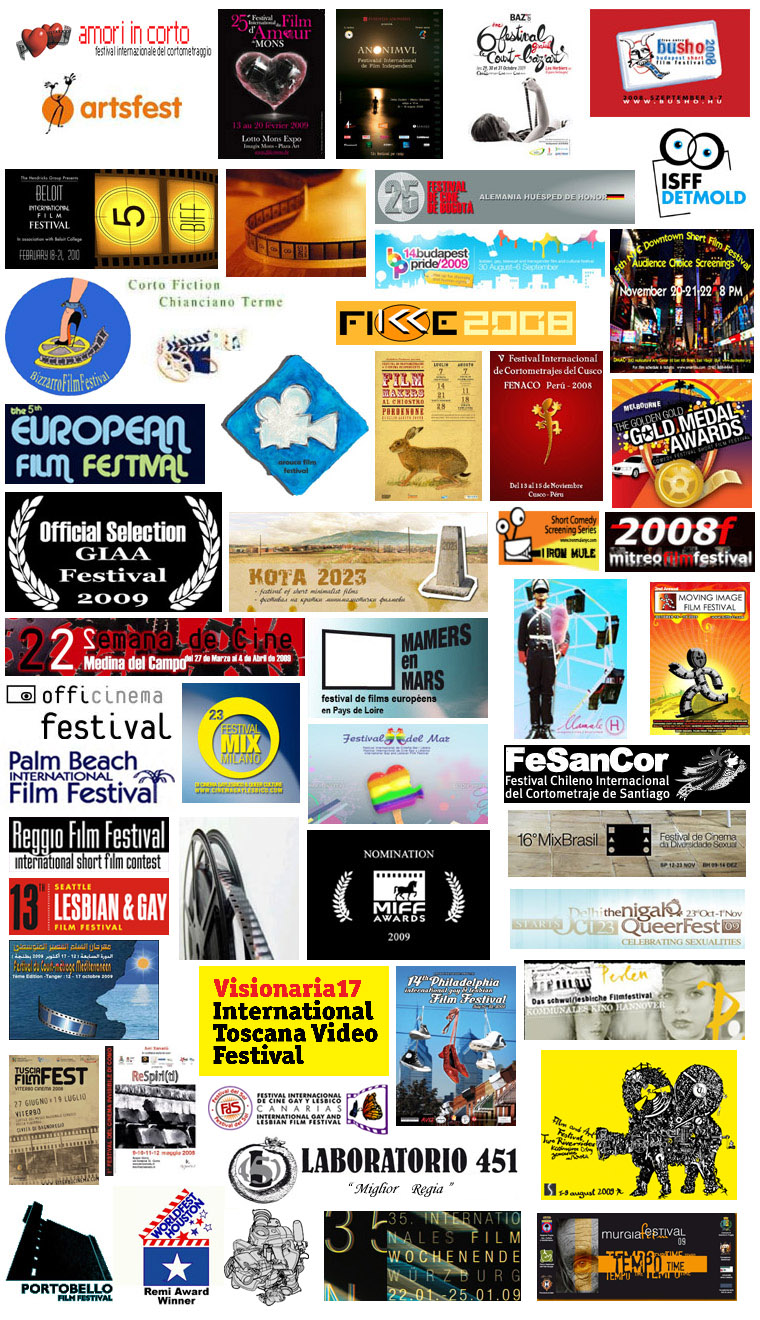 FESTIVAL DU FILM D'AMOUR (Mons - Belgium) February 2009
AMORI IN CORTO (Terni - Italy) March 2009
ANONIMUL INDIPENDENT FILM FESTIVAL (Sfantu Gheorghe – Romania) August 2008
AROUCA FILM FESTIVAL (Arouca – Portugal) November 2008
ARTSFEST (Birmingham – England) September 2009
BAZART (Les Herbiers - France) October 2009
BELOIT INTERNATIONAL FILM FESTIVAL (Chicago - Usa) February 2009
BIZZARRO FILM FESTIVAL (Ravenna –Italy) June 2008
FESTIVAL DE CINE DE BOGOTA' (Bogotà - Colombia) October 2009
BUDAPEST PRIDE FILM FESTIVAL (Budapest - Hungary) September 2009
BUSHO SHORT FILM FESTIVAL (Budapest - Hungary) September 2008
FESTIVAL DI CINEMA BREVE (L'Aquila - Italy) October 2008
CORTO FICTION CHIANCIANO TERME (Siena – Italia) September 2008
SHORT FILM FESTIVAL DETMOLD (Detmold - Germany) October 2008
EUROPEAN FILM FESTIVAL (All Europe) Oct.-Nov. 2009
EVORA SHORT FILM FESTIVAL (Evora – Portugal) November 2008
FESTIVAL DE CORTOMETRAJES FENACO (Cusco – Perù) November 2008
FESTIVAL DEL CORTOMETRAJE FESANCOR (Santiago - Chile) October 2008
FESTIVAL DER NATIONEN (Ebensee – Austria) June 2009
FILMAKERS AL CHIOSTRO (Pordenone – Italy) August 2008
FIATI CORTI (Treviso – Italy) November 2008
FIRST SUNDAYS COMEDY SHORT FILM FESTIVAL (New York – Usa) August 2008
GUILD OF ITALIAN AMERICAN ACTORS FESTIVAL (New York – Usa) October 2009
I'VE SEEN FILMS… (President: RUTGER HAUER) (Milano – Italy) September 2009
KOTA 2023 (Skopje – Macedonia) September 2009
LLAMALE FILM FESTIVAL (Montevideo - Uruguay) September 2009
MAMERS EN MARS (Mamers - France) March 2009
FESTIVAL DEL MAR (Ibiza – Spain) June 2009
MEDINA FILM FESTIVAL (Medina Campo - Spain) March 2009
MELBOURNE INTERNATIONAL COMEDY FESTIVAL (Melbourne – Australia) April 2009
MILANO INTERNATIONAL FILM FESTIVAL (Milano – Italy) May 2009
MITREO FILM FESTIVAL (Caserta - Italy) December 2008
MIX BRASIL (San Paolo - Brazil) November 2008
MIX MILANO FILM FESTIVAL (Milano – Italy) June 2009
MOVING IMAGE FILM FESTIVAL (Toronto – Canada) October 2009
MURGIA FILM FESTIVAL (Bari - Italy) September 2009
NAPOLI IN CORTO (Napoli - Italy) October 2009
NYC DOWNTOWN SHORT FILM FESTIVAL (New York – Usa) November 2008
NIGAH FILM FESTIVAL (New Delhi - India) October 2009
OFFICINEMA FILM FESTIVAL (Bologna – Italy) February 2008
PALM BEACH FILM FESTIVAL (Boca Raton – Usa) April 2009
PERLEN FILM FESTIVAL (Hannover - Germany) October 2009
PHILADELPHIA GAY LESBIAN FILM FESTIVAL (Philadelphia – Usa) July 2008
PORTOBELLO FILM FESTIVAL (London - England) September 2009
REGGIO FILM FESTIVAL (Reggio Emilia - Italia) September 2008
RESPIRI/TI (Como – Italy) May 2008 2° PRIZE
SEATTLE LESBIAN AND GAY FILM FESTIVAL (Seattle - Usa) October 2008
FESTIVAL DEL SOL (Canary Islands – Spain) January 2009
TANGIER SHORT FILM FESTIVAL (Tangier - Morocco) October 2009
TUSCIA FILM FESTIVAL (Viterbo - Italy) July 2008
FILM AND ART FESTIVAL TWO RIVERSIDES (Janowiec - Poland) August 2009
VIDEO LAB FILM FESTIVAL (Ragusa - Italy) August 2008
VISIONARIA (Siena - Italia) September 2008
WORLDFEST HOUSTON (Houston – Usa) April 2009
INTERNATIONAL FILM WOCHENENDE WURZBURG (Wurzburg - Germany) January 2009

AWARDS
MAIN AWARDS:
AMORI IN CORTO
(Terni - Italy) March 2009
BEST ACTOR
BIZZARRO FILM FESTIVAL
(Ravenna –Italy) June 2008
AUDIENCE AWARD
FESTIVAL DER NATIONEN
(Ebensee – Austria) June 2009
BRONZE BEAR
FESTIVAL DI CINEMA BREVE
(L'Aquila - Italy) October 2008
BEST FILM
MELBOURNE INTERNATIONAL COMEDY FESTIVAL
(Melbourne – Australia) April 2009
BEST FOREIGN FILM
NAPOLI IN CORTO
(Napoli - Italy) October 2009
BEST FICTION FILM
RESPIRI/TI
(Como – Italy) May 2008
2° PRIZE
VIDEO LAB FILM FESTIVAL
(Ragusa - Italy) August 2008
BEST DIRECTION
WORLDFEST HOUSTON
(Houston – Usa) April 2009
REMI AWARD